Dranjer JN6
J Series for Large Drains Retrofit and New
The Dranjer JN6 is a complete floor drain designed to mitigate radon entry in new construction or to retrofit an existing large floor drain.
Fits over a catch basin that is 5" or larger. This valve ships with its retaining ring, which is designed to be set into poured concrete.
It can also be used to retrofit by replacing the existing retaining ring with the ring provided with the product.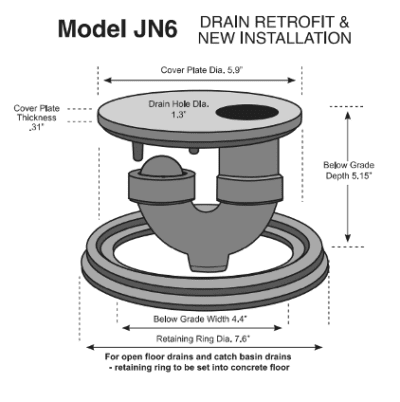 | Specifications | Inches | Centimeters |
| --- | --- | --- |
| Cover Plate Diameter | 5.9 | 14.99 |
| Retaining Ring Diameter | 7.6 | 19.30 |
| Below Grade Depth | 4.75 | 12.065 |
| Below Grade Width | 4.4 | 11.176 |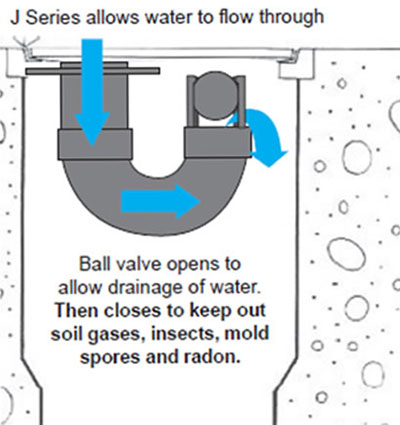 How Your Dranjer J Series Works
J Series have a ball valve that floats, allowing for high flows through the unit.
When the flow stops the valve closes and radon gas can no longer flow up through the floor drain or sump cover. Effectively reducing radon levels in the dwelling.
Dranjer products are engineered and laboratory and field tested. Dranjer products are DIY friendly. Dranjers are often installed association with an ASD system but may be the only action you need to reduce your radon levels.